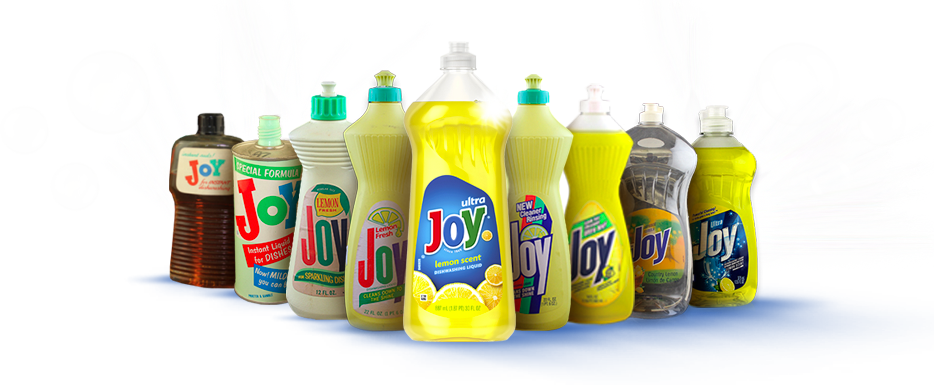 Joy was introduced in 1949 as the first liquid dish soap.
It was the first of many firsts over the decades.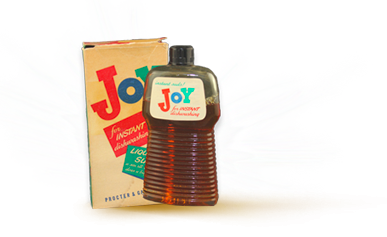 Joy dish detergent is introduced to the market as the first nationally marketed dish soap. Original packaging is designed by Donald Deckey.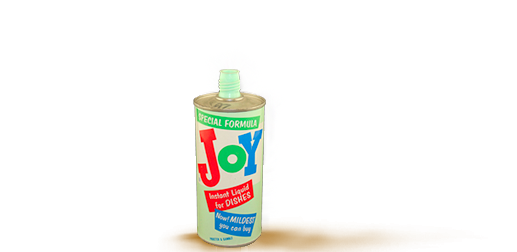 A new formula of Joy is introduced. The color pattern of the logo changes and packaging moves from a glass bottle to an aluminum can.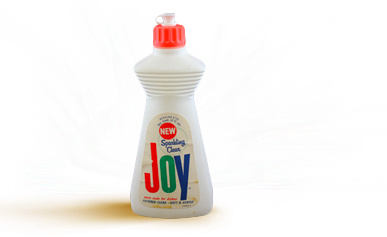 Joy becomes the first dish detergent to be packaged in a plastic bottle. The typography of the logo changes from a serif face to a sans serif.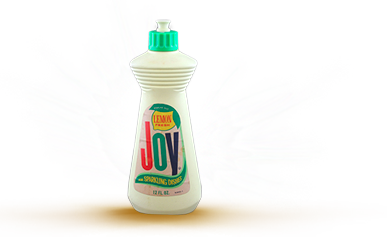 Joy soap with a lemon scent is introduced and begins the overall trend toward lemon scented cleaning products.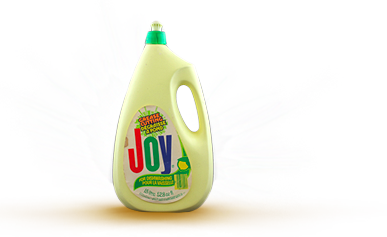 Joy begins advertising its grease cutting performance in its packaging and advertisements.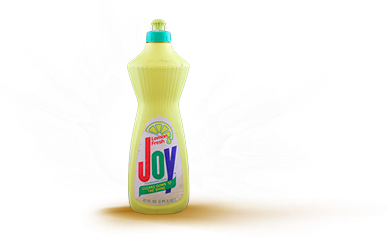 Joy is packaged in a new bottle that is used until 2000. Evolution of the lemon illustration.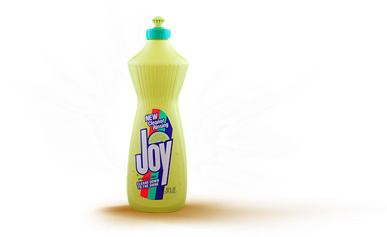 The Joy logo evolves to be white with a blue outline.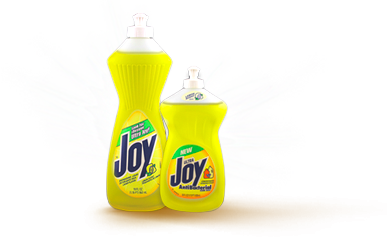 Joy Ultra and Joy Antibacterial line extensions are introduced. The Joy HDPE bottle is introduced and the logo changes to blue.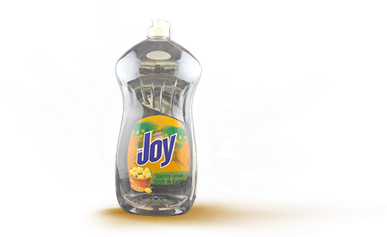 Joy moves to the PET bottle and the inner black label is printed on to show the ingredients through the product. Lemon basket imagery is being used to communicate a scent experience.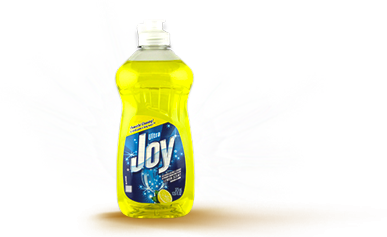 Cleans up to 5,000 everyday dishes is added as a claim. Joy strengthens its use of blue and yellow colors and the logo evolves.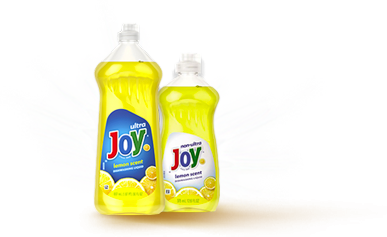 Full brand restage with heritage logo to celebrate historical equity of Joy brand. Enhancing citrus scent and "Ultra" vs "Non-Concentrated" communication pack.

P&G sells the Joy brand (along with Cream Suds) to newly formed JoySuds LLC. JoySuds embarks on plan to reinvigorate and expand the Joy product offerings and distribution.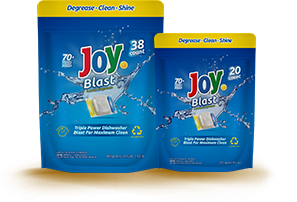 JoySuds expands into auto-dishwashing with the new Joy Blast™
Part of the American Culture
Since 1949, Joy has been a staple of American homes and television.
Joy Ads Through The Years